Blessings in a Backpack Waukesha County Chapter Awarded $10K Donation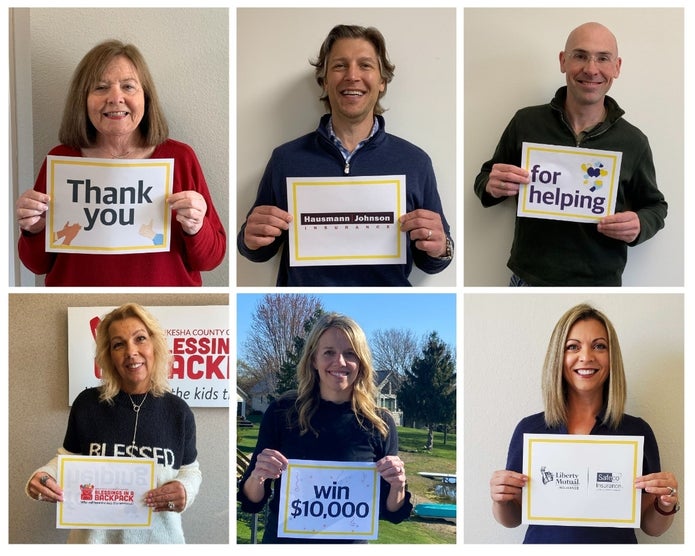 Story by Karen Pilarski via patch.com.
The Blessings in a Backpack Waukesha County Chapter, a local organization founded mobilizing communities, individuals, and resources to provide food on the weekends for school children in Waukesha County who might otherwise go hungry, was officially awarded a $10,000 donation from Waukesha County Hausmann-Johnson Insurance, according to a news release.
Throughout 2020, Blessings Waukesha faced various challenges from supply chain issues and canceling local bag fill events.
Hausmann-Johnson Insurance supported Blessings Waukesha by shifting to 'at-home bag fills' to ensure children had meals over summer break. It costs $4 a week to feed a child through the Blessings program so the $10,000 donation will allow the organization to provide over 2,500 hunger-free weekends to children located throughout Waukesha County.
Diana Schmidt, an independent agent and principal for Hausmann-Johnson Insurance originally received a $5,000 donation for Blessings Waukesha thanks to a submission process with Liberty Mutual and Safeco Insurance through their 2021 Make More Happen Awards.
A story of the local partnership was posted on the official Make More Happen microsite, www.AgentGiving.com where Hausmann-Johnson Insurance was given the chance to raise an additional $5,000 by conducting a local awareness campaign for the nonprofit. Together with the community, the goal was met increasing the total donation to $10,000 for Blessings Waukesha.
Throughout 2021, Liberty Mutual and Safeco Insurance will select a total of 34 independent agents nationwide for a Make More Happen Award donating up to $340,000 to the nonprofits they support.